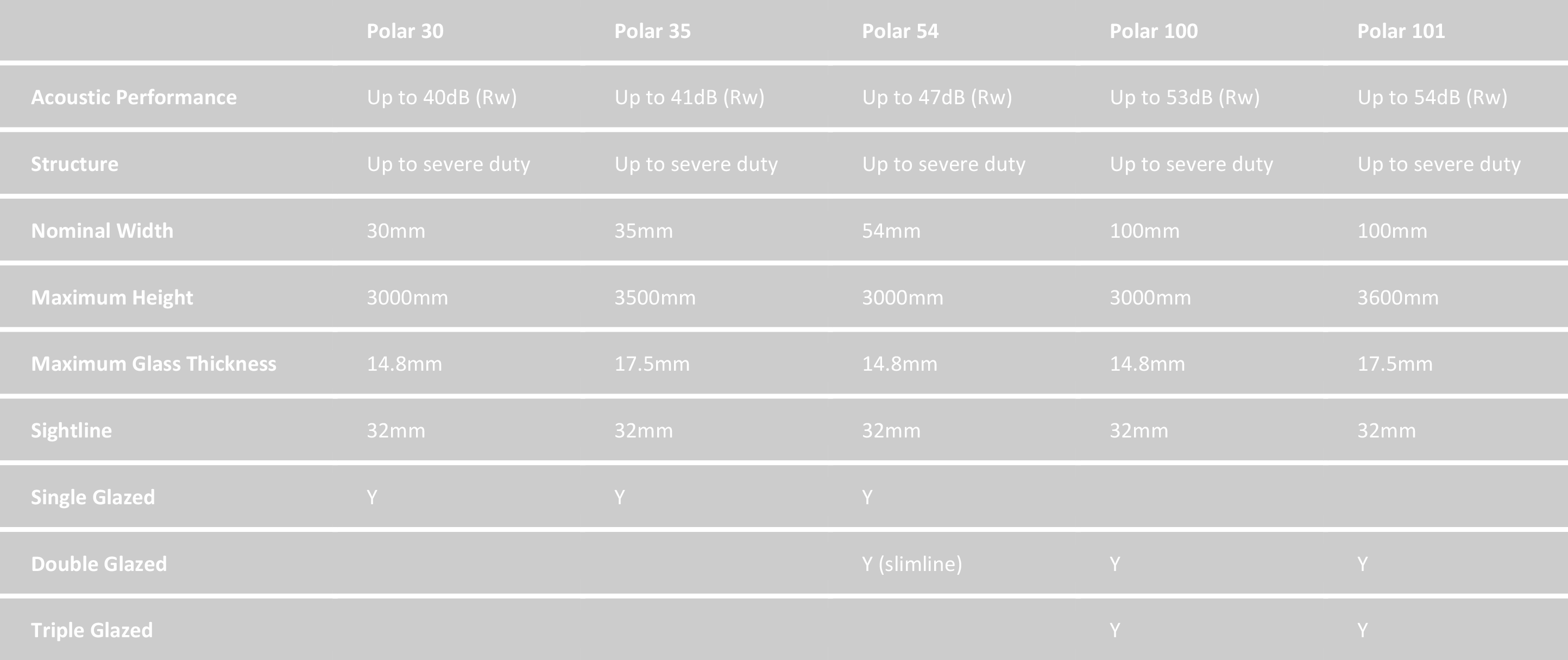 | | |
| --- | --- |
| Acoustic Performance | Up to 40dB (Rw) |
| Structure | Up to severe duty |
| Nominal Width | 30mm |
| Maximum Height | 3000mm |
| Maximum Glass Thickness | 14.8mm |
| Sightline | 32mm |
| Single Glazed | Y |
| Double Glazed |   |
| Triple Glazed |   |
| | |
| --- | --- |
| Acoustic Performance | Up to 41dB (Rw) |
| Structure | Up to severe duty |
| Nominal Width | 35mm |
| Maximum Height | 3500mm |
| Maximum Glass Thickness | 17.5mm |
| Sightline | 32mm |
| Single Glazed | Y |
| Double Glazed |   |
| Triple Glazed |   |
| | |
| --- | --- |
| Acoustic Performance | Up to 47dB (Rw) |
| Structure | Up to severe duty |
| Nominal Width | 54mm |
| Maximum Height | 3000mm |
| Maximum Glass Thickness | 14.8mm |
| Sightline | 32mm |
| Single Glazed | Y |
| Double Glazed | Y (slimline) |
| Triple Glazed |   |
| | |
| --- | --- |
| Acoustic Performance | Up to 53dB (Rw) |
| Structure | Up to severe duty |
| Nominal Width | 100mm |
| Maximum Height | 3000mm |
| Maximum Glass Thickness | 14.8mm |
| Sightline | 32mm |
| Single Glazed |   |
| Double Glazed | Y |
| Triple Glazed | Y |
| | |
| --- | --- |
| Acoustic Performance | Up to 54dB (Rw) |
| Structure | Up to severe duty |
| Nominal Width | 100mm |
| Maximum Height | 3600mm |
| Maximum Glass Thickness | 17.5mm |
| Sightline | 32mm |
| Single Glazed |   |
| Double Glazed | Y |
| Triple Glazed | Y |
Acoustics & Wellbeing
Inline with the WELL Standards V2, this brand new seminar explores the relationship between office design and individual's wellbeing as well as how employee productivity and satisfaction are intrinsically linked to acoustic control.
Specifying Komfort
Komfort's partitioning is manufactured to order, allowing complete design freedom and specification. We work in partnership with architects and other construction professionals to achieve unique design briefs and schedules.
Komfort and Allied Ireland
Allied are the exclusive partner of Komfort in Ireland and Northern Ireland and have been working with them for over 20 years. Our range of office partitions, both single and double glazed, atrium glazing, and specialised single and double glazed fire rated partitioning systems combine the best of performance tested and certified materials.
This year we are Introducing Komfort's most competitive and completely reimagined Polar range.
Acoustic performance up to Rw 54db
Height up to 3.6 metres
Fire rated up to EI 60 Integrity and Insulation.
Get in Touch
How can we help?