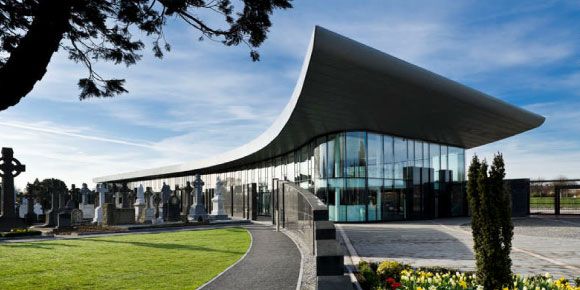 Allied Workspace completed the fitout of fire rated screens to lobby and atrium areas at the Glasnevin Trust Museum in 2010. The Museum, operated by Glasnevin Trust, is a self-funded €11m museum showcasing the social, historical, political and artistic development of modern Ireland through the lives of the 1.5 million people buried in Glasnevin Cemetery – Ireland's national necropolis – including Daniel O'Connell, Éamon de Valera and Michael Collins.

The three storey museum hosts three main feature exhibits and a restaurant: The City of the Dead an immersive exhibition in the basement of the museum. It covers the burial practices and religious beliefs, as well as the meticulous record-keeping, of the 1.5 million people buried in Glasnevin.
The Milestone Gallery houses a succession of special exhibitions on key historical figures, starting with Glasnevin's founder Daniel O'Connell. It also houses "the Timeline" a 10 metre long digitally interactive table containing details of the lives and relationships of hundreds of the most famous people buried there.
The glazed Prospect Gallery offers periodic historical exhibitions over a panoramic view of the cemetery, along with information on its marvellous array of funerary monuments and historic graves. A 70 seat restaurant, the Tower Café, offers morning coffee, lunch and afternoon tea.