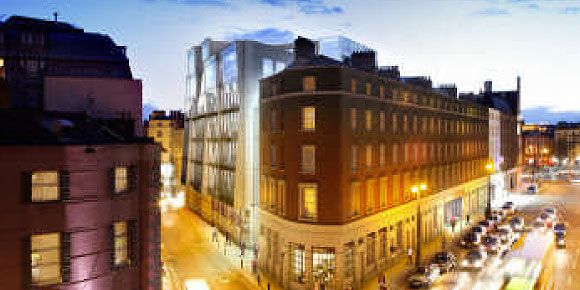 Allied Workspace completed the fit out of the IAA's new Headquarters in D'Olier Street, Dublin with the installation of our leading edge frameless double glazed partition system with both swing and sliding glass doors.
The gross floor area of the proposed development is 8,427 square metres (90,707 square feet) of which 2,309 square metres (24,854 square feet) is retained floorspace and 6,118 square metres (65,854 square feet) is new floor space. The development is set to house a mix of commercial, retail, restaurant and high end residential units.
The frameless partitioning system is performing at Rw 43dB and the glass doors are achieving Rw 34dB. The partitioning system is recessed into the ceiling with an integrated head track that is supported by a secondary structure designed by Allied within the ceiling void.
The project allows for the retention of listed buildings and shopfronts along D'Olier Street but permits the removal & redevelopment of buildings along Fleet Street and the construction of a large atrium connecting the original listed buildings with a new structure facing Fleet Street.