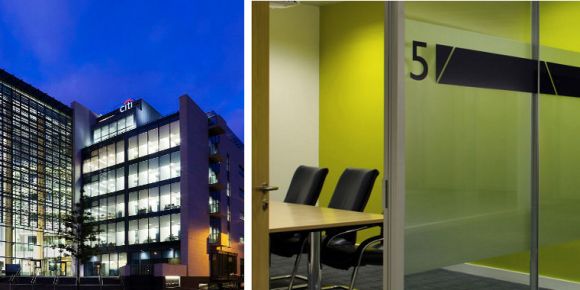 Allied Workspace is proud to have delivered a LEED-certified commercial interior fit out at Citigroup's new Head Quarters in Belfast's Titanic Quarter. Allied successfully installed 6 floors of double glazed partitions and frameless glazed doors at Citigroup's Gateway Offices.
The 110,000 sq ft fit out for the US giant was delivered under a strict rating system set by the US Green Building's Council; LEED (Leadership in Energy and Environmental Design) aims to substantially reduce the negative environmental impacts and reverse the trend of unsustainable construction activities.
 As a major player in the financial sector and with over 1,640 offices worldwide, Citigroup is very conscious of it's carbon footprint, and pro-active in achieving means of reducing it, as well as the associated costs.
"Through our sustainability efforts, we get the double benefit of helping the environment while reducing our corporate expenses,"
says Susan Chapman, Citi's Corporate Real Estate Head for Global Operations. "Citi works to make a positive impact in the cities we serve through our employees, products and services, and we're also working to ensure that our buildings have a positive impact."