MAARS
GLASS & SOLID PARTITION WALLS
MAARS
GLASS & SOLID PARTITION WALLS
MAARS
GLASS & SOLID PARTITION WALLS
MAARS
GLASS & SOLID PARTITION WALLS
MAARS
GLASS & SOLID PARTITION WALLS
MAARS
GLASS & SOLID PARTITION WALLS
MAARS
GLASS & SOLID PARTITION WALLS
MAARS
GLASS & SOLID PARTITION WALLS
MAARS
GLASS & SOLID PARTITION WALLS
MAARS
GLASS & SOLID PARTITION WALLS
MAARS
GLASS & SOLID PARTITION WALLS
MAARS
GLASS & SOLID PARTITION WALLS
MAARS
GLASS & SOLID PARTITION WALLS
MAARS
GLASS & SOLID PARTITION WALLS
MAARS
GLASS & SOLID PARTITION WALLS
MAARS
GLASS & SOLID PARTITION WALLS
MAARS
GLASS & SOLID PARTITION WALLS
MAARS
GLASS & SOLID PARTITION WALLS
MAARS
GLASS & SOLID PARTITION WALLS
MAARS
GLASS & SOLID PARTITION WALLS
MAARS
GLASS & SOLID PARTITION WALLS
MAARS
GLASS & SOLID PARTITION WALLS
MAARS
GLASS & SOLID PARTITION WALLS
MAARS
GLASS & SOLID PARTITION WALLS
MAARS
GLASS & SOLID PARTITION WALLS
MAARS
GLASS & SOLID PARTITION WALLS
MAARS
GLASS & SOLID PARTITION WALLS
MAARS
GLASS & SOLID PARTITION WALLS
MAARS
GLASS & SOLID PARTITION WALLS
MAARS
GLASS & SOLID PARTITION WALLS
MAARS Living Wall products are centered on providing  fully customised engineered solutions for your design needs. Maars portions allow for the the combination of a wide variety of materials including glass, fabric, wood, metal, or any other finish that allows you to bring your vision to life. Maars products offer Acoustic privacy with our Glass partition walls bringing transparency to any office space. A frameless design contributes to the overall aesthetics of your indoor environment.
Maars Glass partition walls and solid partition walls offer an incredibly diverse range of solutions and finishes. Our wall systems meet various acoustic requirements for any type of building.
With the implementation of specially designed sound-absorbing materials and systems, we can finetune your acoustics or cancel ambient noise completely.
Maars Living Walls partitions offer noise isolation of up to Rw 53dB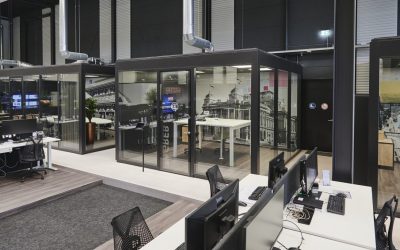 Introducing MAARS Core a room in a room solution. Core is fully custiomisable space and can be developed with all of our wall systems allowing you to determine the design and function of the cube. For CORE we developed a robust and durable base, which is the core of the room. You are the architect that decides how this cube is going to be arranged. Whether you want maximum transparency or optimal privacy, with CORE you can have the best of both worlds. The amount of possible combinations is endless. Design your CORE so that it fits your needs and demands.Introducing MAARS Core a room in a...
read more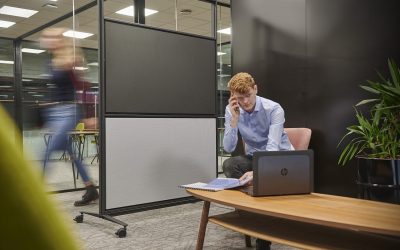 The M923. is known for its flexibility and functionality. The freestanding, a new configuration of the M923. makes the wall system even more flexible. The wall is attached to a base with a feet or caster and is therefore easy to move! The M923. freestanding is a welcome solution in a time were flexible boundaries are required. The freestanding is nothing like the partitioning systems Maars is known for. It is a system where modern wall decoration, movable walls and functional office furniture meet. The panels can be mounted in to the framework using a magnet strip and four safety clips. ....
read more
The Edge - Deloitte
The Edege Building in Amstardam utilizes the MAARS String 2 system for its breathtaking atrium as well as office spaces throughout one of the most technologically advanced buildings in Europe.
Get in Touch
How can we help?